click on the fish

to translate this page into Chinese, Dutch, French,
German, Greek, Italian,Japanese, Korean,Portuguese,Spanish, or Russian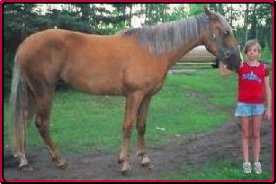 Click on Photo to view Silver's full pedigree.

Future Silver Dust, was foaled May 22, 2000, she is a gorgeous palomino mare with a unique silver mane and tail. Silver is by Generatin' Future Goldust (Tennessee Goldust x Generator Plum) x Dachele's Thunder Cat (Thunders War Eagle x Gen's Muskat).

Silver was purchased in 2001 as a yearling. She is an awesome mover, Silver is extemely easy to handle she is super quiet.

Silver is TWHBEA Registered.



Foaled April 23, 2005 an Amazing Palomino Filly

Foaled May 4, 2006 a sweet Palomino Filly

Foaled April 15, 2007 a gorgeous Smoky Black Colt. UC Davis tested.