click on the fish

to translate this page into Chinese, Dutch, French,
German, Greek, Italian,Japanese, Korean,Portuguese,Spanish, or Russian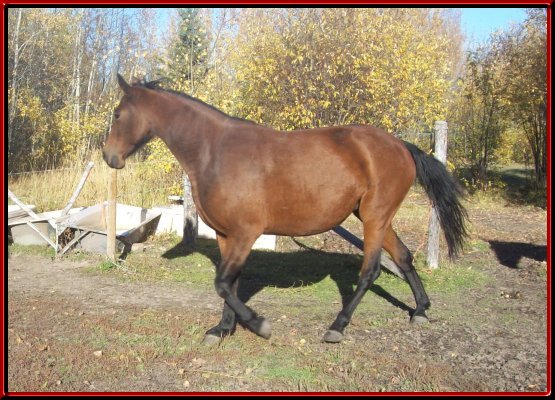 Meg is a mare we brought up from Florida this spring, Meg is a solid Bay mare, she stands a smart 14.2HH, a gorgeous little girl.

Meg was foaled March 12, 2001. She is by Coins True Threat (Prides Gold Coin x Prides Charissma) x Mega Coin (Prides Gold Coin x Winstons Gypsy Echo)

Meg has a wonderful disposition, flawless conformation, though Meg has not yet been started under saddle, she displays a beautiful natural gait in the pasture with a snappy little head nod.

Megs sire is a wonderful chestnut stallion with both hind socks, he has been shown very successfully. In 1993 he was the Nacogdoches Ama Champ, and the Texas Fall Ama Grand champ, as well the SWHBA Ama Grand Champ.

Meg's grandsire, Prides Gold Coin, was an outstanding horse owned by Harlinsdale Farm. Prides Gold Coin also was shown very successfully, in 1976 he won the 2 year old TWHNC World Grand Championship came back as a three year old and won the TWHNC World Grand Championship again, this was not enough for this fine fella he had to do it one more time, as a four year old, Prides Gold Coin lived to be 29 years old.

Meg is TWHBEA registered.

Foaled a gorgeous buckskin filly Oct 7, 2005
Foaled a striking black filly March 31, 2007
Foaled a beautiful Bay filly April 14, 2009
Foaled a tiny black filly May 5, 2010

Meg was laid to rest on May 28, 2010.... vet never did tests so we are unclear as to what took her so suddenly, our belief is cancer.