We were married in 1998, we bought our little farm
the following year, we then filled our home with kids.
Picture taken Christmas 2004
Tiffani age 12, Robert - Paul age 5, and Montana age 2 years.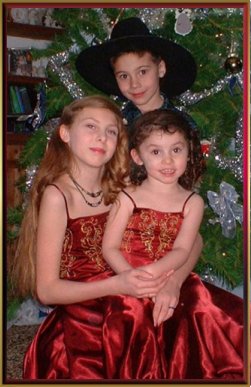 March 1999, We set out to buy Tiffani a horse, we were to look at two black horses, one a registered Morgan and the other a registered Walker, we didn't know much about either breed but that they both had a good quiet dispositions. So we headed out to look at these two mares well we didn't get far, Tiffani fell in love with the first horse we saw, it was the walker mare, we made the arrangements and brought her home.
A couple of weeks later I called my uncle, whom raised walkers for about 15 years at that time, and made arrangements for a breeding with his stallion Pride's Undertaker. A year later a beautiful little black filly was foaled on June 1, she was coal black and was absolutely perfect, she is super quiet and gentle we spent the entire day with her, this little black filly now goes by the name Pride's Sky Dancer and is proudly owned by my son Robert-Paul.

One month later....

We love this black filly so much we had to have her daddy my uncle was selling his herd so we were able to purchase him, Now we are the proud owners of this 'Black Beauty' named Pride's Undertaker, now I had alot of homework to do, so on the net I went looking up all the lines in both my horses and was shocked to find the horses I had bought blindly are very well bred...I did good!

Our Journey begins....

Spring 2001, we purchased our next mare, she is a palomino with a silver mane and tail that literly sparkles in the sun!! I am extremely proud of this purchase, with her legs having just the right amount of angle to her hocks, this mare does a picture perfect rocking chair canter as well, with a nice head, ears set just right she is a beauty, and then her lineage, with Prides Generator not once but twice, this mare will be an asset to our breeding program.

Spring 2002, I was surfing the net one night as I often do, and came across a beautiful chestnut filly, I said to myself 'I must have her!' I called the owners and sure enough home she came. Gem also has her hind legs nicely aligned with hocks with perfect angles, this mare has legs and knows how to use them! Gem had a bonus, she was first place weanling at the Canadian Futurity, with high score in movement. We currently are owned by 10 wonderful Tennessee Walkers...as you may have guessed my buying and wheelin and dealin did not stop at Gem!